Bustiers
A bustier is a piece of clothing for women, which can enhance your figure and is traditionally worn as lingerie. It reaches down only to the ribs or the waist and pushes up the bust by tightening against the upper midriff and forcing the breasts to move up, while gently shaping the waist. The bustier is a garment which doubles as a push-up bra for underneath and as a camisole (cami) for outer wear.
Yes, that is the technical explanation.
A well designed bustier can provide figure shaping benefits and is one of the most versatile pieces of sexy lingerie you can own. No, it is NOT a corset and comes without the accompanying discomfort of it.
Bustiers come in many styles and can provide definition underneath other clothes, or you can wear it instead of a shirt, maybe together with a beautiful jacket.
Designed to gently sculpt the body rather than confine it, a bustier is much more comfortable and fun to wear than a corset
Bustiers and camisoles come in a range of fabrics, from matt to shiny and from transparent to opaque.
There are no limits when it comes to colours, either, although beige, grey, black and red (of course) seem to be the favourites. If you look for romantic fabrics and sophisticated detail, european brands may be your best bet.
Straps or no straps, that is the question, since bustiers come in both versions. How about the ones you can wear with and without straps?
Four or more long, sexy garter straps leading from where the bustier ends to the top of your stockings will expose more of your upper legs and can look very sexy indeed.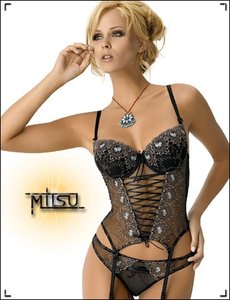 Bustiers have truly rocked the world of both men and women that look for a little extravagance.
Men agree, and numerous surveys attest to it, that bustiers and camisoles are incredibly sexy and elegant and they are absolutely delighted about the different details like mesh and lace, or even scented sachets. Try to experiment with this garment not only for the sake of inspiring your partner, but also to discover your own sexuality. Funky, gothic, glamerous, sensual or just plain sexy, you will find there is an enormous variety available to express your personal style.
One word regarding sizing: sizing is generally based on bra size, chest measurement is used and not cup size, so getting the right fit can be somewhat tricky. If your bust size is larger than average, go up one size, if you are smaller busted go down a size. Check the size charts and information carefully, or consider trying on a few bustiers in a local shop, before ordering online.
Now, after all the technical aspects a few words to the real woman in you. I know, all lingerie looks just great and sexy when you see it in a fashion shop or on a model with that perfect body, and for a moment you dream about how you would feel in it. Then realty sets in and you talk yourself out of it, because you think you will never, ever look like that or even you might just look silly in it. Or the garment of your desire will be uncomfortable and it is not available in your size anyway. The truth is, your fears are unfounded.
There IS a bustier with the right fit for your body, and NO, you will NOT look silly in it! Actually, these types of sexy lingerie can be very comfortable and flattering. So, there is no reason at all why you should not give it a try. Yes, you can look fabulous and feel great at the same time.
Remember, sexy lingerie will improve everything else you wear with it, and a bustier that fits your body is no exception and will give you that much sought after hourglass figure.
In terms of sensual, alluring lingerie the bustier is an important part of any sexy outfit and will continue to provoke and excite.
So, no more excuses. Get your measurements right and start browsing online. It is so much fun, you will wonder how you did without it for so long.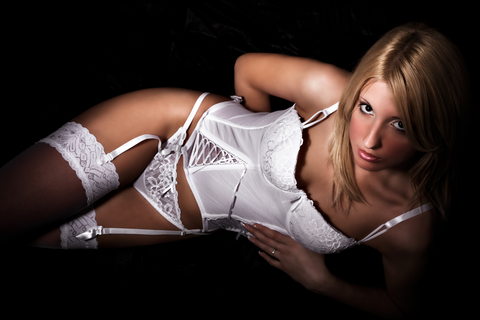 Find beautiful Bustiers right HERE!